- Overview
   ZZWPEThe self operated electronic control temperature control valve consists of control valves, actuators, sensors and capillary tubes. They are divided into heating type and cooling type according to their usage.
Applicable to liquid, gas and steam, temperature control in various cooling systems. When the controlled medium temperature rises, the control valve is closed (heating type); when the controlled medium temperature rises, the control valve is opened (cooling type).
Main features:
1、 The control accuracy is high, the work is stable, safe and reliable
2、 Proportional expansion control of temperature sensitive liquid
3、 The temperature setting is easy to operate and convenient to adjust
4、 Small size, light weight, easy installation
If needed. Caller ID 13761779806
- technical parameters and performance
Nominal:15、20、25、32、40、50、65、80、100、125、150、200mm
Nominal pressure:PN1.6、4.0MPa
Flange standard:JB/T79.1-94、79.2-94etc.
Valve body material: Cast SteelZG230-450Cast stainless steelZG1Cr18Ni9Ti、ZG1Cr18Ni12Mo2Ti)
Spool material: stainless steel1Cr18Ni9Ti、1Cr18Ni12Mo2Ti)
Warm pack material: copper nickel plating etc.
Set value deviation:±1℃~±5℃
Temperature control range:0~280℃
dischargedewQuantity: hard seal-- 0.01%×Valve rated capacity; soft seal--Zero leakage
Shanghai Wang valve -ZZWPE self operated electric temperature control valve steam electric temperature control valve DN20-DN200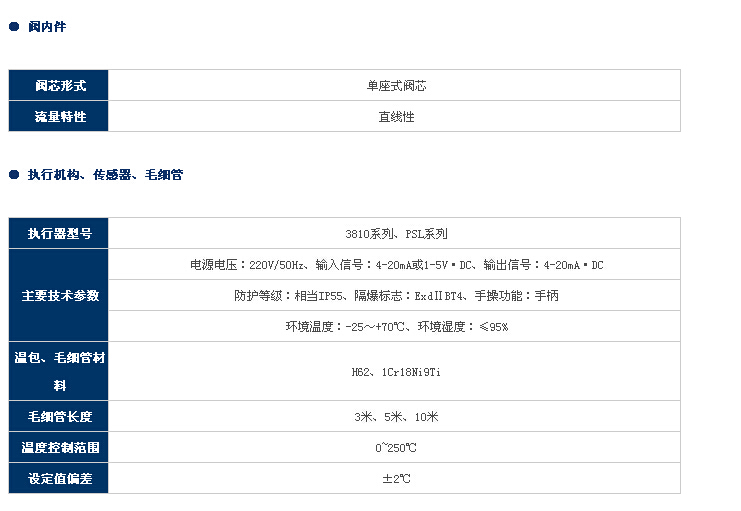 Note: the size of the table is data without standard accessories. In addition, technical innovation parameters may be changed due to product improvement. Please consult the technical department for the latest data.